Appliance Removal Services In New Hampshire
Household appliances help to make your everyday life just a little easier. However, what happens when these appliances are too old to function properly? Removing large appliances is more difficult than it looks. If your technique isn't sound, you could end up suffering serious muscle injuries that take time to recover from. Not to mention the fact that many household appliances contain hazardous chemicals that could pollute the environment, such as freon.
Trash Bandits Removes Large Household Appliances in New Hampshire
In order to prevent these problems from happening, Trash Bandits is here to eliminate the risk to both you and the environment! Our team is expertly trained in the removal of large household appliances. You'll never have to worry about injuries with us; we'll get your appliances safely out of your way with no troubles!
We also ensure that the work we do doesn't have a negative impact on the environment. We'll always responsibly comply with New Hampshire's local regulations, which include the safe removal of harmful substances like freon. Any appliance that you remove with us will either be recycled or donated!
Whether you need a few small appliances removed or an entire refrigerator, you can count on Trash Bandits to get the job done the right way. All it takes is one phone call to get rid of the junk that clutters your life!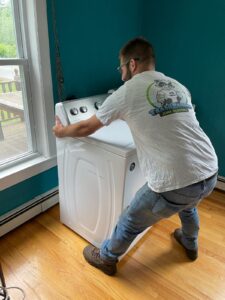 Some of the appliances we remove:
Air Conditioners
Bicycle
Deep Freezers
Exercise equipment
Ranges
Small appliances
Stoves/Ovens/Microwaves
Treadmill
Water Heaters
Lawnmowers/Tractors
How Do I Know When It's Time For Appliance Removal?
Every appliance has an average lifespan! You should have a good idea of how old your appliances are to help prepare you for replacing them and consulting a professional to remove your old appliances. However, appliance malfunctions are common and could cause your item's lifespan to decrease sharply! There are a few common signs of needing to dispose of appliances, including:
Inconsistent or declining performance

Water leaks or water damage

Sharp increases in utility bills

The appliance won't turn on
What Can I Do To Prepare For Appliance Removal?
Appliance removal is a simple process when you work with Trash Bandits in New Hampshire! Simply give us a call and let us know which appliances you'd like removed and where you're located. Before we arrive, we recommend that you unplug your unwanted appliances and clear any roadblocks that may get in the way of removing them. One call takes it all – we can have your appliance out of your hair in a quick fashion!
Schedule Your Appointment Or Call Us Today!
Clutter can take up space and relinquish the control you had over the rooms in your home – and this is especially true with household appliances! Trash Bandits is here to help you reclaim control of your space and dispose of your large household appliances in New Hampshire. To get these unwanted items out of your hair, you can call us at 603-404-4178 or click here to fill out our online contact form!