Snowmobile Removal & Disposal Services in New Hampshire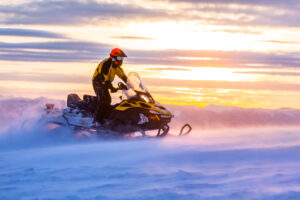 If you live in a climate that sees significant snowfall during the winter, a snowmobile is a great way to take advantage of it! It's a great way to explore snowy terrain and take advantage of everything a winter wonderland offers. But what happens when you're no longer in need of a snowmobile? Let's say you're selling your New Hampshire home to move to a warmer state – or your snowmobile has become too old to use physically. You'll need to get the old one off your property somehow, but snowmobiles are incredibly heavy and large. A company out there can solve both of these issues for you – Trash Bandits Junk Removal! Read on to learn more about our snowmobile removal work!
Why Should You Remove Your Old Snowmobile From Your Property?
You might be asking yourself why you can't just leave your old snowmobile on your property if it's out of use. Snowmobiles take up considerable space, preventing you from storing more important items, and they can have a significant environmental impact! Snowmobiles require oil and gasoline in order to run properly, and these items can have devastating environmental consequences if your snowmobile is abandoned. They, along with the scrap metal that old snowmobiles are made from, can impact the air, land, and water quality around them. In certain areas, abandoning your snowmobile is illegal!
With Trash Bandits Junk Removal, you don't have to worry about these hurdles. We'll take your snowmobile off your hands to ensure it doesn't have any environmental impact. You'll also be able to use the additional space you have for more important items!
How Does The Snowmobile Removal Process Work?
When you work with Trash Bandits Junk Removal, the snowmobile removal and disposal process couldn't be any easier! We've included a step-by-step breakdown of what you can expect from the moment you get in contact with us:
Contacting Us:

Give Trash Bandits a call at (603) 404-4178 or fill out our online contact form! We'll reach back out to you promptly with an estimate for the snowmobile removal and to discuss scheduling.
Removing Your Snowmobile:

We'll show up promptly with our moving truck to get your snowmobile off of your property! Our movers are expertly trained in lifting heavy objects,

eliminating the risk of injury

to your person or property.
Contact Trash Bandits For Flawless Snowmobile Removal
Are you looking to get rid of your old snowmobile in New Hampshire? Trash Bandits can ensure that it's out of your hair before you know it! Click here to fill out our contact form and get your old machinery off of your property today!
Trash Bandits Junk Removal
Average rating:
0 reviews