Frequently Asked Questions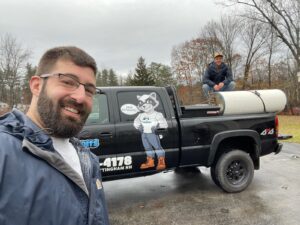 There are plenty of frequently asked questions that people have about our junk removal services. Read on to learn the answers to each one!
Can You Perform A Junk Removal Job If I'm Not Home?
We can perform our junk removal services even when you aren't home! With curbside pickup, you simply leave your junk on your curb or driveway and we'll come to get it within the timeframe you provide!
What Types of Junk Can You Remove From My Home?
Trash Bandits can remove a wide variety of different items and junk from your home. Some of the big ticket items that we can help you dispose of are household appliances, furniture, and old or abandoned vehicles.
What If I Need My Entire Home Or Apartment Cleaned Out?
If this is a problem you have, prepare to have it solved! Trash Bandits offers full property cleanouts and estate cleanout services for those looking for everything to be removed. We'll make quick work of the property in the span of an afternoon!
Do You Offer Junk Removal Services to Real Estate Agents?
If you need to get a property turned around and ready to put on the market again, our junk removal services offered to real estate agents can help! We'll help you get back the time you'd lose from cleaning out the property on your own.
Are Your Junk Removal Services Eco-Friendly?
Yes, our junk removal services are eco-friendly! We'll ensure that 100% of the items we remove for you are either recycled or donated to reduce the environmental impact they would make.
What Is Your Service Area?
Trash Bandits is proud to offer junk removal services across Strafford County and Rockingham County in New Hampshire. Click here to view a list of cities and towns we service in the area!
What Are Your Hours of Operation?
We operate Monday through Saturday from 9 AM to 5 PM each day!
Is Clutter in My Home A Bad Thing?
A misplaced shirt or newspaper lying around every now and then isn't necessarily a bad thing. It becomes a bad thing when items like these pile up and aren't properly dealt with. Trash Bandits can return control of your space to you by getting these items out of your hair.
Contact Us Today
If you have junk you need out of your hair, we can help you reclaim control of your home with our expert junk removal services! Contact us today to get your unwanted items hauled away!