Washing Machine & Dryer Removal in New Hampshire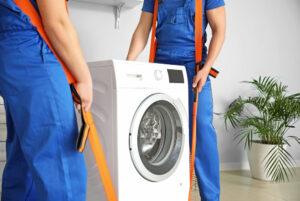 Your washing machine and dryer are two of the most important appliances in your home. They help to make sure that your clothes stay fresh, clean, and free of unsightly odors. They also have a long lifespan, being able to help perform these duties for many years. Unfortunately, as is the case with all household appliances, your washing machine and dryer won't last forever. Getting replacements for both units is the best option once it gets to that point, but how do you get the old units out? Trash Bandits Junk Removal can ensure these units are disposed of quickly, safely, and in the most eco-friendly manner possible!
Signs Of Needing To Dispose Of A Washing Machine Or Dryer
It may not be the easiest to determine whether or not you need to get rid of your washing machine or dryer. However, a few telling signs can point you in the right direction. If you see any of these signs with your washing machine or dryer, contact Trash Bandits today to get these old units off your property!
The machine is leaking water

Your washing machine or dryer makes strange noises consistently

The dryer takes too long to dry clothes

Their energy efficiency is outdated

The machines move across the room during use
Why Consult Our Junk Removal Company For Washing Machine & Dryer Disposal?
One of the things that we try to hammer home with these big, heavy appliances is not to try to remove them yourself. Attempting this poses serious health risks! An appliance as heavy as a washing machine or dryer requires perfect technique when you lift it. Any deviation from this technique can cause severe muscle tears, spasms, and back injuries that can require physical therapy to heal from.
Trash Bandits Junk Removal ensures that these health risks won't be an issue for you! Our team is expertly trained in lifting heavy appliances like washing machines and dryers. Their perfect form and efficiency will ensure no damage to your property or person. Choosing an eco-friendly junk removal service for big appliances like these is paramount – if a washer or dryer ends up in a landfill, it can create serious consequences for the environment around it.
Trash Bandits Junk Removal can ensure that your washing machine or dryer is removed safely, efficiently, and in the most eco-friendly way possible. Contact us today to get your unwanted items off your property!