Mattress Removal & Disposal in New Hampshire
A mattress is one of the most important investments you can make for your home. It controls the quality of your sleep each night, so it's important to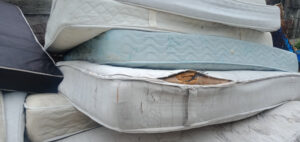 be certain about the purchase before you make it! Like all types of furniture, your home's mattress won't last forever. There are plenty of reasons why you would want to get rid of an old mattress, but they all have one thing in common. Trash Bandits Junk Removal is the best place to call for your mattress removal needs in New Hampshire!
Why Should You Get Rid Of Your Mattress?
Making the decision to part with your old mattress isn't an easy one to make. However, depending on the situation, it may be necessary for your health – and the well-being of your home! If you've noticed any of the following signs regarding your current mattress, it may be time to get it removed:
It shows visible signs of wear and tear, such as sagging, stains, and holes

You've noticed worsening allergies during a non-allergy season

You wake up sore when you sleep on it

You have trouble sleeping on it
Get Rid Of Your Mattress With NH Junk Removal
When you notice signs like these, your first thought may be to remove the mattress on your own. However, we strongly caution against this! Mattresses are among the heaviest pieces of furniture that you own, which means that you need extreme precision when lifting them to avoid the risk of injury. While this may sound easy in writing, it's an entirely different ballgame once you actually go to do it! Improperly lifting heavy objects, like your old mattress, can lead to serious muscle tears, strains, and spasms that can take physical therapy to recover from fully.
When you work with Trash Bandits Junk Removal, you'll be alleviated of both the mess and the stress! Our team is specially trained in lifting heavy objects, ensuring that your mattress gets removed safely and effectively.
The Mattress Removal Process
Do you want to know more about how the mattress removal process works at Trash Bandits? Our process is streamlined and efficient – we don't want to waste your time! Mattress removal comes in three simple steps:
Free Estimate:

Once you contact us for your mattress removal needs, we'll respond promptly with a free estimate of how much the removal costs and when we can come by to perform it.
Preparing Your Home:

Before we arrive, we recommend that you rearrange any items in your home that could interfere with getting your mattress out the door. It makes the process much easier!
Mattress Removal:

The next step is the easiest for you – we'll show up at your property and get your old mattress out of your hair! Our junk removal services are eco-friendly, meaning that anything we remove will be recycled or donated. It's much safer for the environment than overstocking landfills!

Do you have an old mattress that you need to be removed from your home in West Nottingham, NH, or the surrounding areas? Trash Bandits Junk Removal is the best place to call! Click here to contact us directly and get your old mattress off your property quickly!