Brush Pile Removal in New Hampshire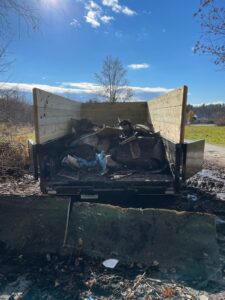 Landscaping work is important for keeping your property's landscape in a healthy condition. Some tree branches may be harmful to your tree's health, while massive shrubs and bushes can be a huge eyesore and a home for unwanted pests. The only problem with landscaping is there tends to be some debris left over. This debris gets assembled into brush piles. Not only are brush piles unsightly, but they can actually be dangerous for your landscape! When situations like these arise, it's important to deal with them quickly. Trash Bandits Junk Removal can remove your brush pile quickly and efficiently in New Hampshire!
Dangers of A Brush Pile
Upon realizing that your brush pile is going to be a problem, your first instinct might be to set it ablaze. However, we strongly caution you against doing this! Controlling a burn is much harder than it seems, and a small fire can quickly cause unwanted property damage, costing you hundreds in fire damage repairs. This isn't the only damage that brush piles can cause! Brush piles can pose a danger to your property for the following reasons:
They can become habitats for pests like rodents and raccoons

Diseases can be spread by unwanted pests

They can become a fire hazard

They can get in the way of future landscaping projects
If you have a brush pile you want to remove, doing so can save you from these preventable problems!
Trash Bandits Junk Removal: NH's Trusted Brush Pile Removal Experts
When you're looking to remove that unsightly brush pile from your yard, there are a few qualities you should be looking for in a company. They need to be thorough and speedy with their work to ensure that nothing is left over and your time isn't wasted. When looking at junk removal companies that emphasize these traits in New Hampshire, only one stands out from the rest: Trash Bandits Junk Removal! We'll ensure that your brush pile is effectively removed, quickly removed, and done so in a way that is eco-friendly. In the right situation, a brush pile can be helpful for the environment. We'll create that situation with your unwanted one – away from your property! 
If you have a brush pile that's getting in the way, it doesn't have to be so for long. Contact Trash Bandits Junk Removal today for a speedy brush removal job in New Hampshire!